Mark your calendar for Tuesday at 6pm! SFSD and experts from Avera are teaming up for the second year of the Family Forum Series. It's 30-minutes of online learning that includes practical advice to strengthen families. September 19 Topic :Benefits of Setting Limits.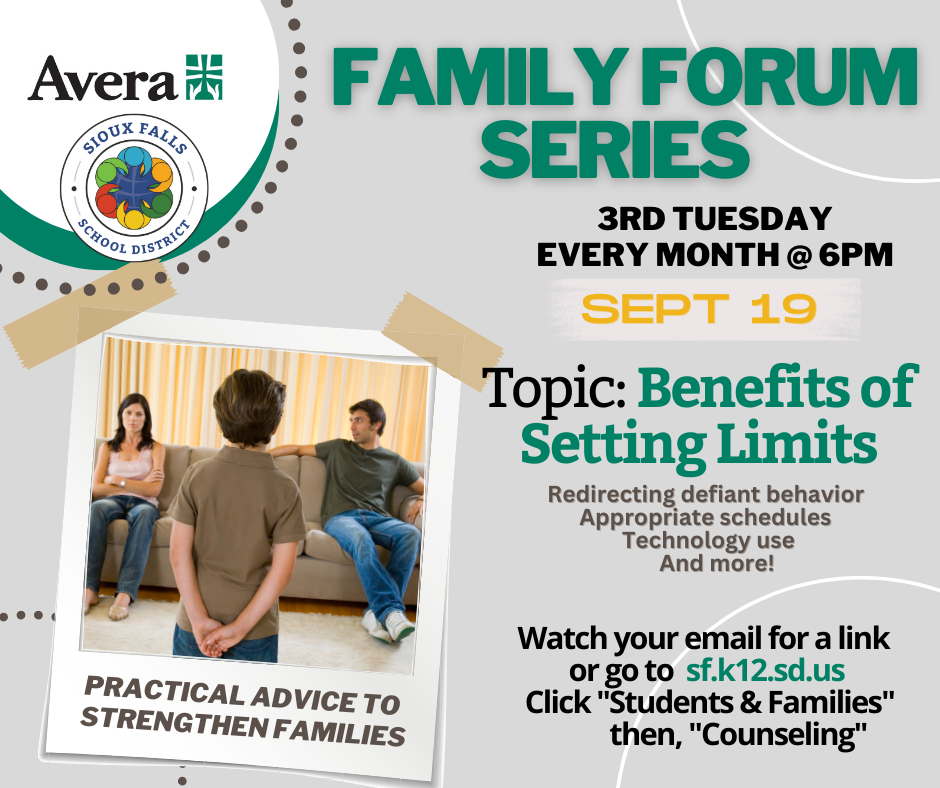 The SFSD Leadership Team is just as happy today as they were as Kindergarten students! Together, they've been in school a total of 150 years! Show us your "First Day" photos with #SFSDFirstDay. Have a GREAT year!

Back-to-school paperwork just got easier! There's a new, fast, phone-friendly way to fill out the Free/Reduced Meals Application! You'll be notified immediately. Use the QR code or the link to complete it TODAY! Bonus points if you also complete your student registration! 🙂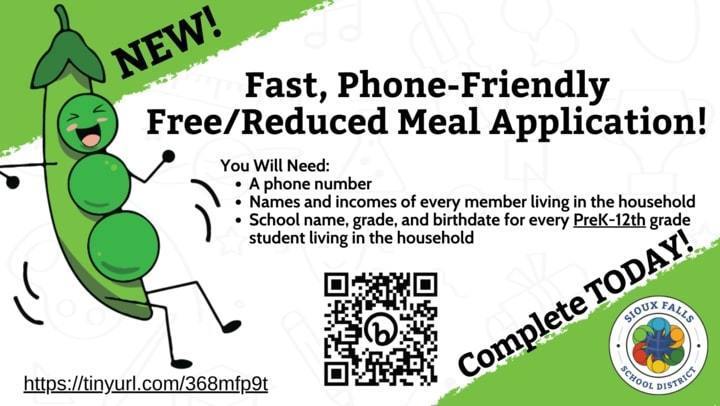 Freedom Reigns! Happy Independence Day!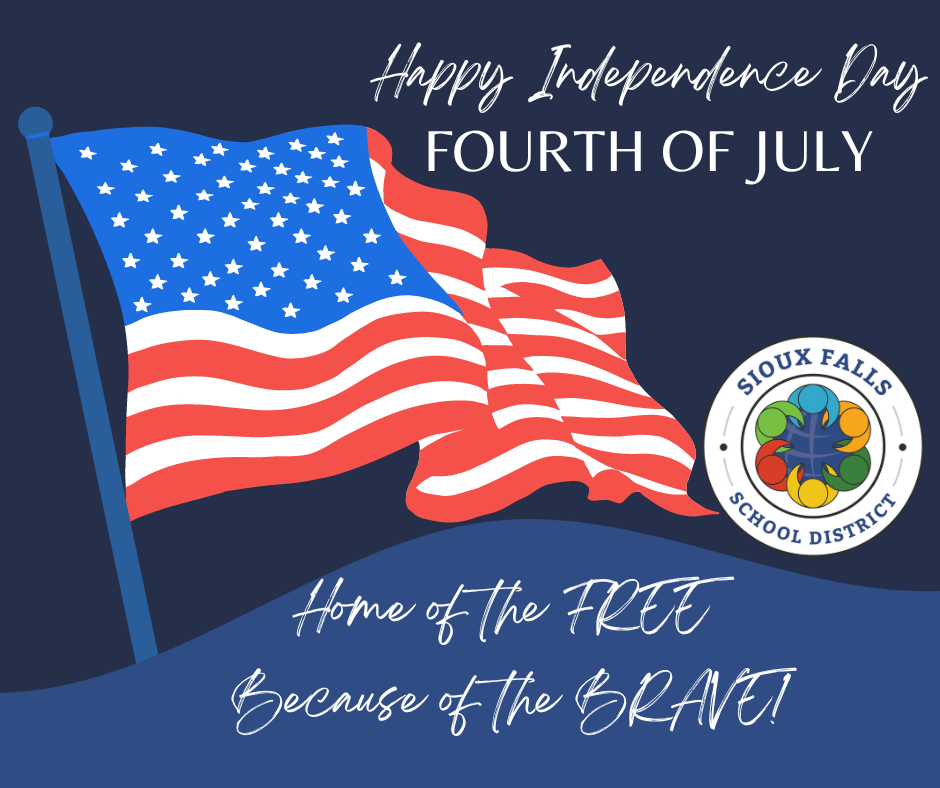 The Power of Partnership is highlighted, once again, to help SFSD families get connected to affordable internet. The SF Area Community Foundation is investing $50,000 to enroll households in the Affordable Connectivity Program (AFP). SD Voices for Peace leads the effort. Voices for Peace is working with SFSD schools to inform families of this program. An enrollment specialist will continue to meet families during school events like parent-teacher conferences, success nights, etc. Eligible families should enroll today! GetInternet.gov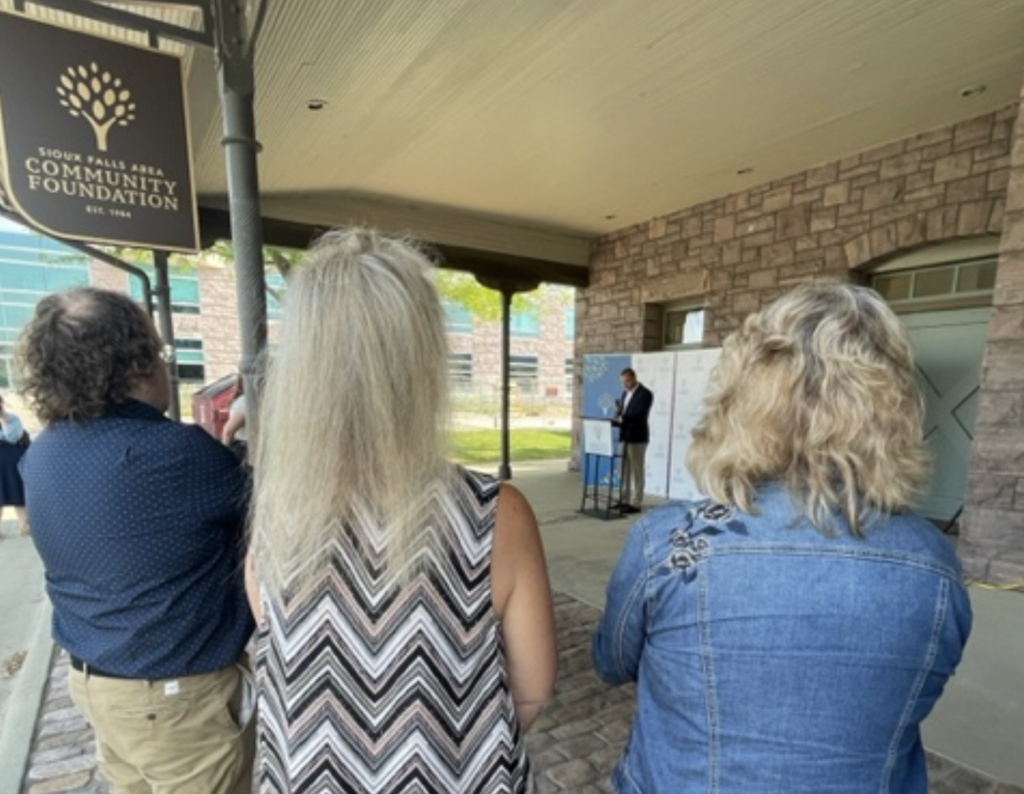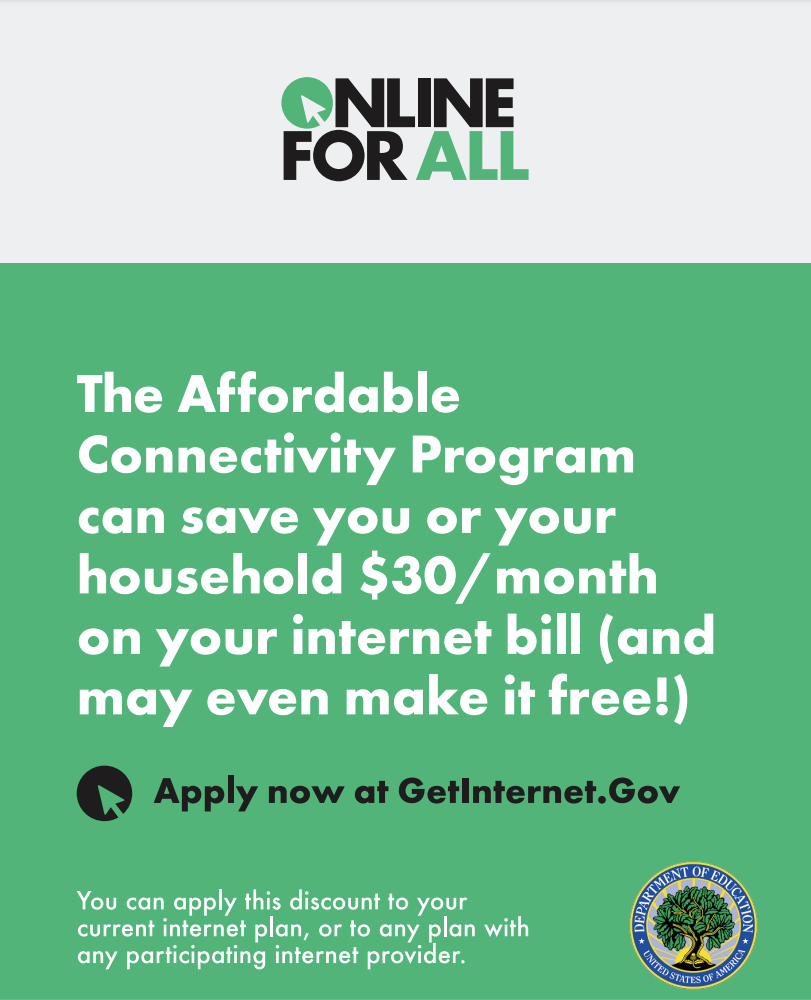 Calling all income eligible SFSD children who will be 4-yrs-old by September 1, 2023! We're recruiting students for FREE preschool with an event on July 5 or 6, 8am-4pm, at the SFSD Learning Lab on the Southeast Tech Campus - 2205 N. Career Ave. Tell your neighbors and friends!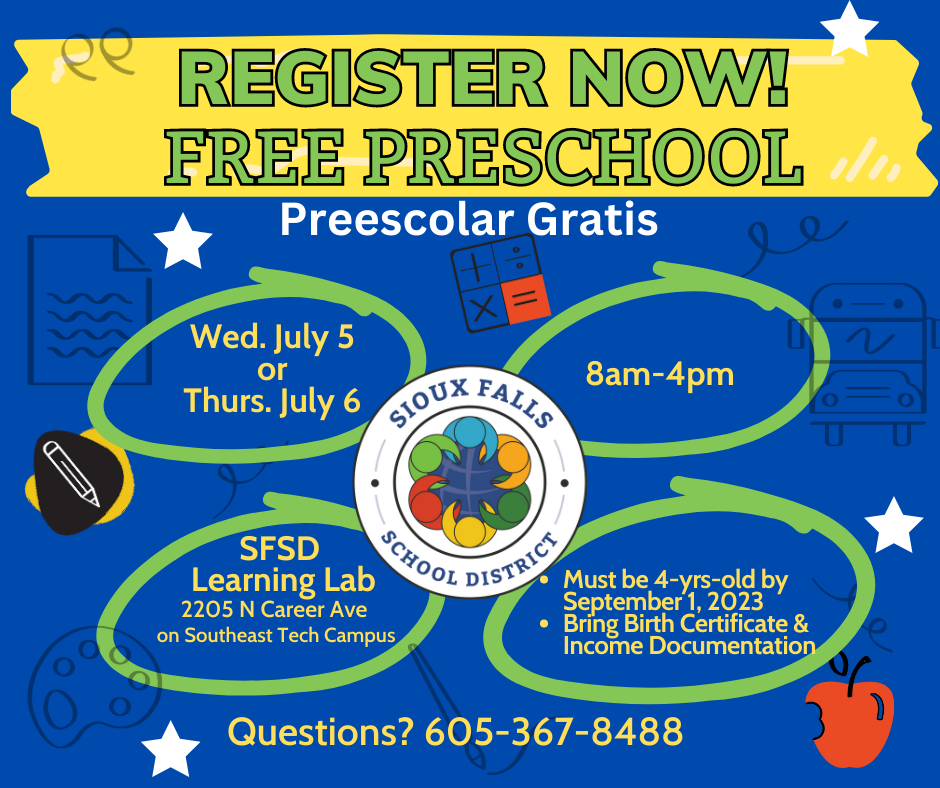 What's for breakfast? What's for lunch? All students can eat FREE this summer by visiting one of our Summer Meal Sites. Check the schedule to find out where and when meals are available in your area!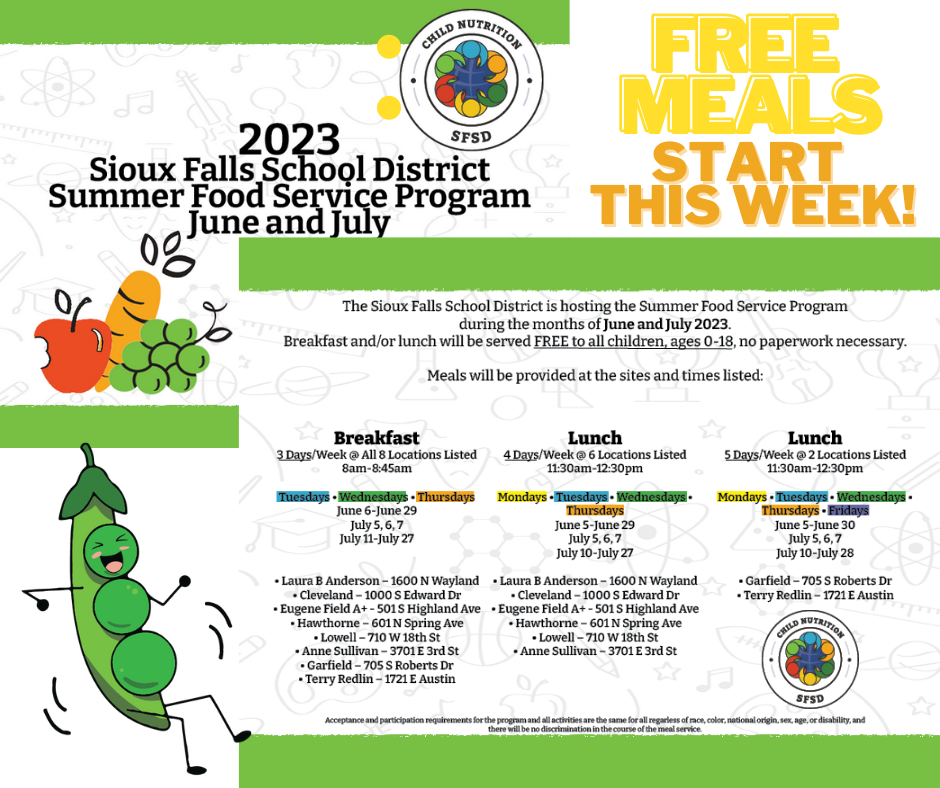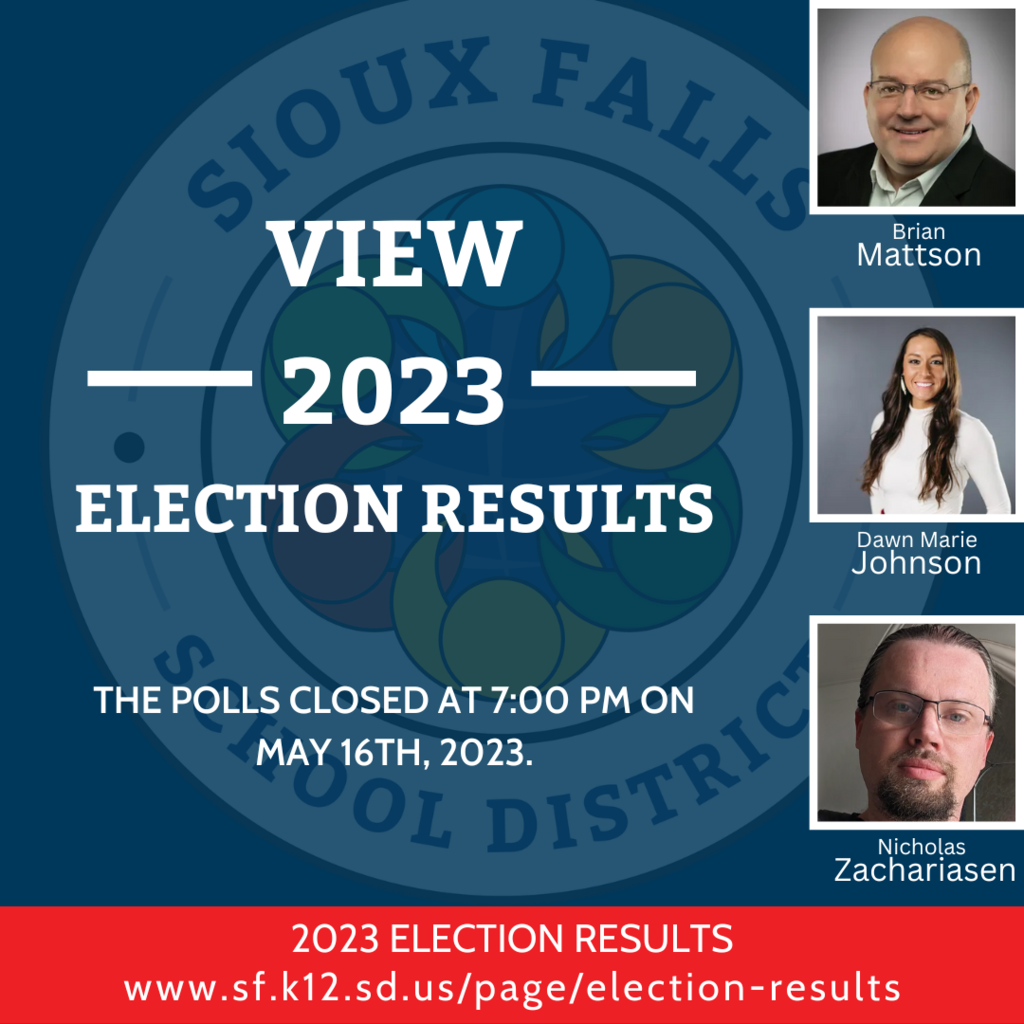 Your preteen is navigating their first summer without childcare. Older siblings are caring for younger siblings at home and meal preparation is a little too much responsibility. You've hired a teenage companion to take your kids to the parks, camps, and activities but this means funds are tight for food. These are all real scenarios playing out in homes and apartments across Sioux Falls. That's why the Sioux Falls School District is proud to, once again, offer free breakfasts and lunches to all children, ages 1-18 during June and July 2023. Using meal counts from previous summers, the Office of Child Nutrition established a schedule for breakfast to be offered at eight schools on Tuesdays through Thursdays. Lunch will be served Mondays through Thursdays at six locations and Monday through Friday at two locations. The schedule will be emailed to SFSD families and will be posted on the District's website: sf.k12.sd.us. No income eligibility paperwork is required.. In accordance with Federal civil rights law and U.S. Department of Agriculture (USDA) civil rights regulations and policies, the USDA, its Agencies, offices, and employees, and institutions participating in or administering USDA programs are prohibited from discriminating based on race, color, national origin, sex, disability, age, or reprisal or retaliation for prior civil rights activity in any program or activity conducted or funded by USDA. Persons with disabilities who require alternative means of communication for program information (e.g., Braille, large print, audiotape, American Sign Language, etc.), should contact the Agency (State or local) where they applied for benefits. Individuals who are deaf, hard of hearing or have speech disabilities may contact USDA through the Federal Relay Service at (800) 877-8339. Additionally, program information may be made available in languages other than English. To file a program complaint of discrimination, complete the USDA Program Discrimination Complaint Form, (AD-3027) found online at:
https://www.usda.gov/oascr/filing-program-discrimination-complaint-usda-customer
, and at any USDA office, or write a letter addressed to USDA and provide in the letter all of the information requested in the form. To request a copy of the complaint form, call (866) 632-9992. Submit your completed form or letter to USDA by: (1) mail: U.S. Department of Agriculture Office of the Assistant Secretary for Civil Rights 1400 Independence Avenue, SW Washington, D.C. 20250-9410; (2) fax: (202) 690-7442; or (3) email:
program.intake@usda.gov
This institution is an equal opportunity provider.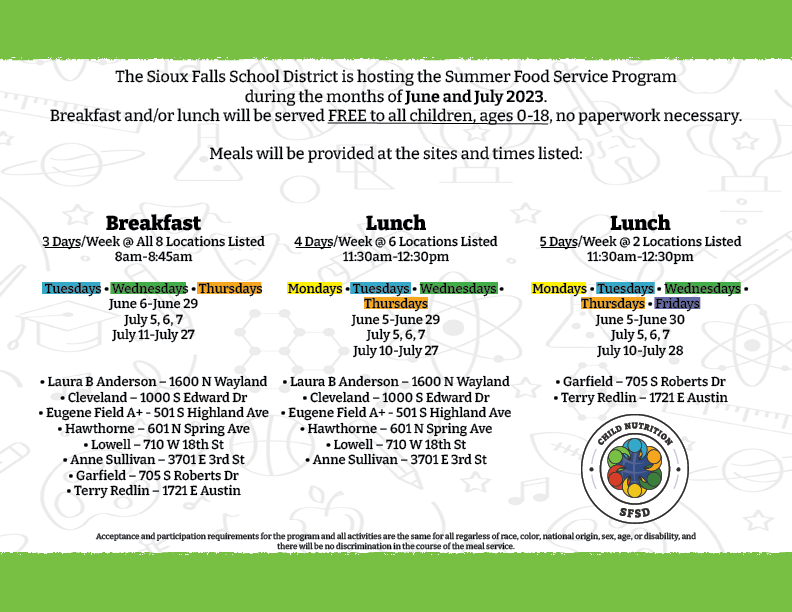 We have become aware of a scam circulating that appears as if SFSD Child Nutrition Coordinator Gay Anderson is asking people to go out and purchase large dollar amounts of gift cards. Gay has NOT sent out a text or an email. Her communication devices appear to have been hacked. Please delete any communication and do not follow through with the request. We apologize for this inconvenience.

We are proud to announce the Sioux Falls School District has been named a #BestCommunitiesforMusicEducation from @nammfoundation for its outstanding commitment to music education! Congratulations to our music educators, our talented students, and our community for your support!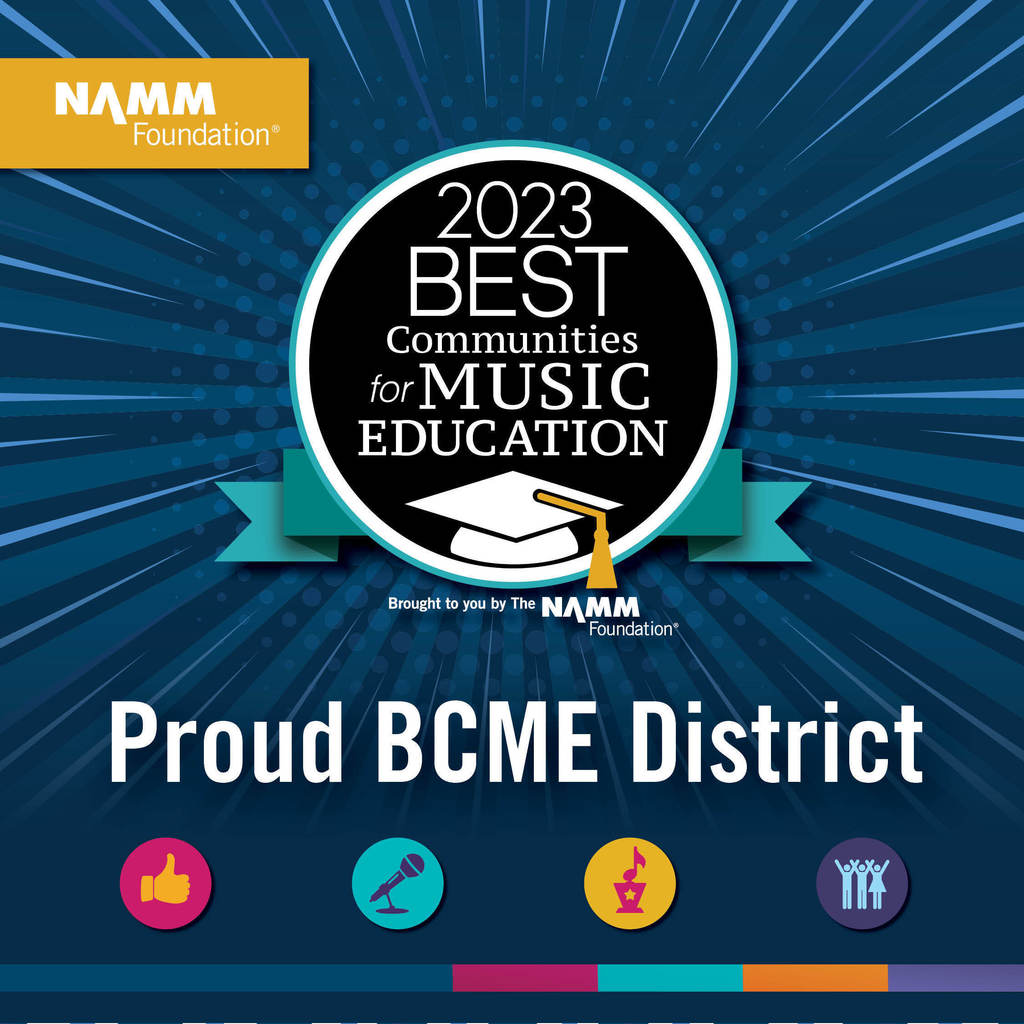 The stats are troubling-47% of SFSD students qualify for free/reduced lunches. Their family's income is not enough to make ends meet. That makes it difficult to support school fundraisers. Operation Hope & Caring helps! Get your tickets to the SF STORM game to support schools!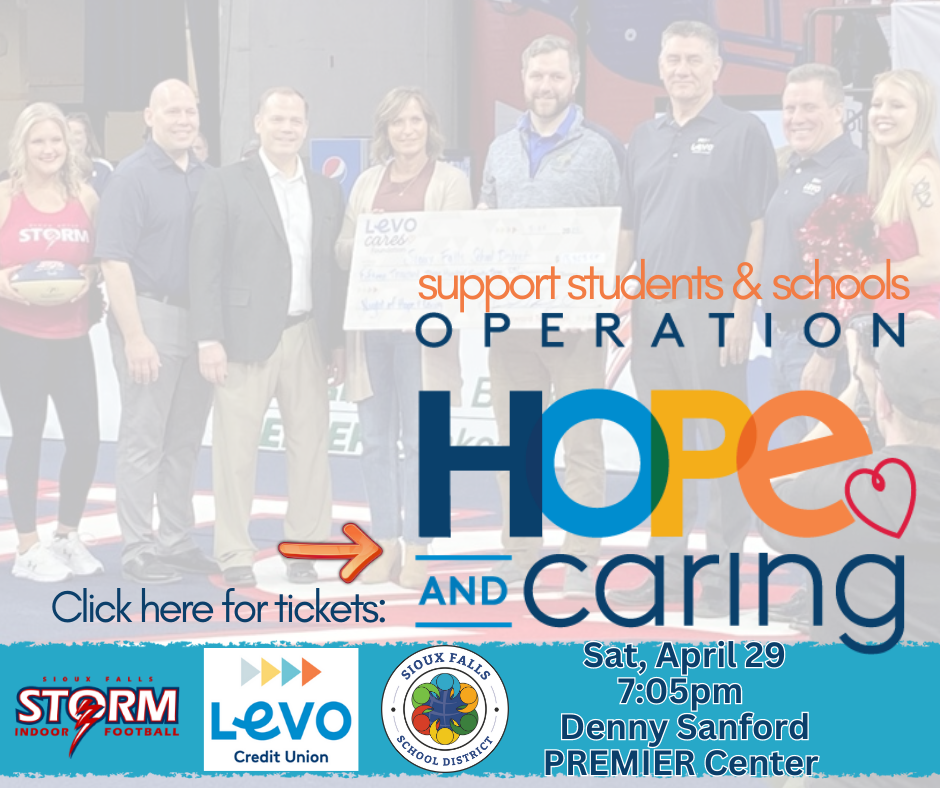 Does your child have conflict resolution skills to solve everyday problems? Join us Tues, April 18 at 6pm to hear from SFSD & Avera Behavioral Health in this month's Family Forum Series segment. Watch for the link in your email. It's practical advice to strengthen families.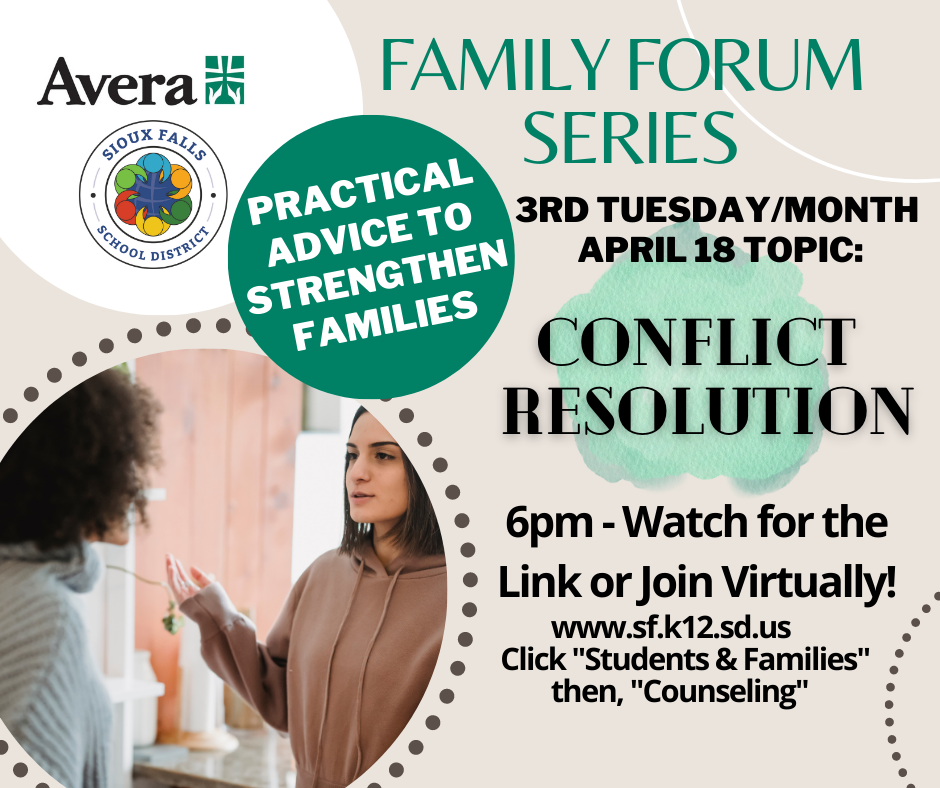 The School Board has voted to move the last day of student classes to Friday, May 26, 2023 - requiring students to make up two of the five days missed due to weather. Staff will report through Friday, June 2, 2023.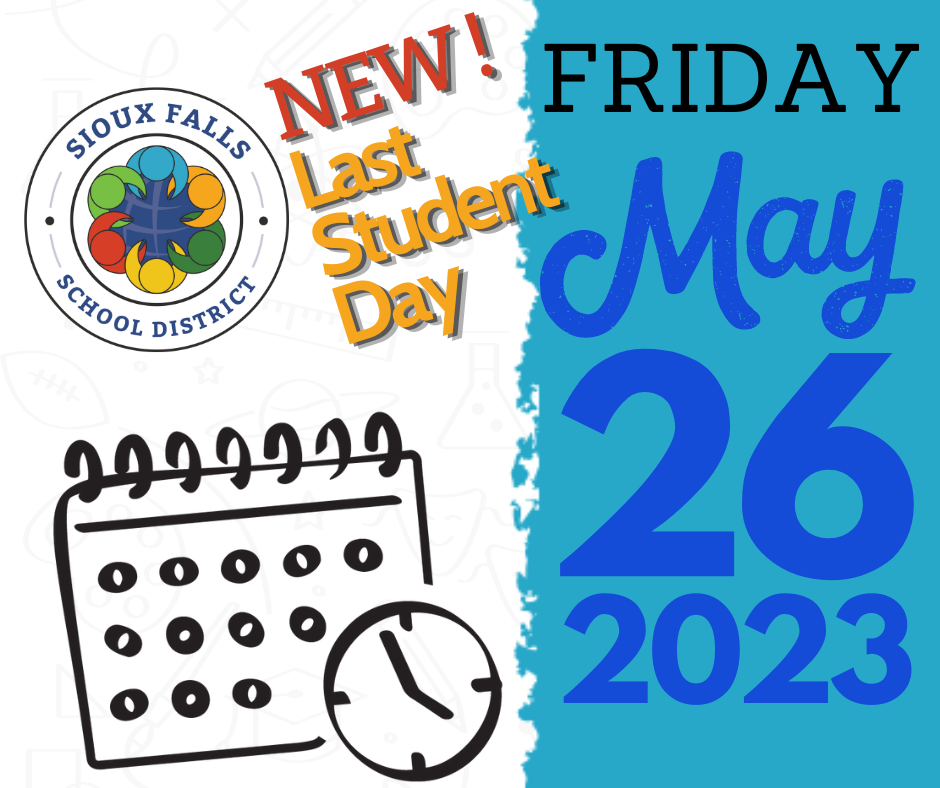 Join us in honoring our retirees and employees with 25 years of service on April 18th at 6:00pm. This event will be held at The Country Club of Sioux Falls. Tickets Sales END Today, April 11th! Purchase Tickets and view all the retirees here:
https://www.sf.k12.sd.us/o/careers/article/1044384