The Sioux Falls School District School Nurses will provide exceptional healthcare to students as a foundation for the best learning experience.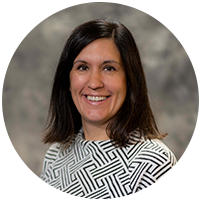 Senior Coordinator of Health Services & District 504 Coordinator
✆ (605) 367-7933
With the philosophy that "healthy children learn better", professional school nurses work with parents and community partners to address the physical, mental, emotional and social health needs of school children on a daily basis. Sioux Falls School District Health Services staff provide emergency care for students and staff, health screenings, assessments, and referral for all students, essential health treatments for students with special needs, and health promotion and disease prevention activities that address wellness across the lifespan.
We envision a school nursing program that…
Develops and utilizes a unified set of standards through teamwork, communication, and collaboration.

Educates staff and families of the professional role of the school nurse.

Acknowledges the importance of a cooperative relationship between families, community health, and the school community to provide a holistic support system for all students.

Provides positive and measurable outcomes for those we serve.

Reaches more students through innovative change while serving as a model for others.